Dispatches from the Bunker #49 pdf Transmitted Today 4/20/2020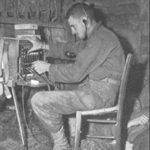 Hello to all of my ASL Comrades.
Dispatches from the Bunker #49 has just been transmitted after a delay of around a month after we moved to Pittsfield, MA. My new, physical and mailing address is below and I have a new game room that I sure hope to see much ASL action in once the pandemic is under control. Needless to say all my ASL Comrades will be welcome here with a little notice when the time is right.
As for the newsletter, I have kept the Sales Prices going from the old Holiday Sale and see below if still interested.
Special Issue #50 will see a modest price increase for the first time since I started publishing in 1997, something we do need as I am disabled and will be permanently retired this year (as long as I can avoid getting very sick from the virus).
Dispatches is published twice a year in the Spring and Fall, is at least 12 pages and often 20+long with 2 to 4 scenarios and it already has 2 HASLs (Guadalcanal and Rees). We have articles on all aspects of ASL play and looks at regional ASL play and tournament action. If you are old school, send a check of money order made out to Vic Provost (NOT the newsletter) to:
Vic Provost
Dispatches from the Bunker
20 King St
Pittsfield MA 01201

here are those sale prices:
4 Issue PDF Subscription:
New Subscriber - $14.00 - normally $15.00
Re-subscription - $13.00 - normally 14.00
WORKs Order (4 Issue Subscription + All 48 Back Issues, includes 2 HASLs, over 100 scenario for 52 Issues all together) = $60.00 normally $65.00
ALL 49 Issues in pdf - $50.00 normally $55.00
Send your USA Funds $ via PayPal to:
PinkFloydFan1954@aol.com

If you have any questions, please contact me directly at aslbunker@aol.com.
Thanks for your interest and support, your ASL Comrade, Vic.
P.S. All occupants of the Bunker Location are considered Fanatic.