Dispatches from the Bunker #40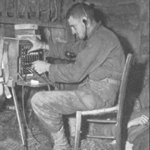 Hello to my ASL Comrades. I just transmitted new Dispatch #40. If you think you should have received a copy in your in-box but did not, Please let me know and I'll check your subscription status. I'm already seeing a bunch of bounced e-mails come back so if your e-mail is out of date, e-mail me from the one your want on file for your subscription.
If you did not receive #40 and think you should have please e-mail at aslbunker@aol.com
You'll find the usual 4 scenarios and articles from Kedge, Chuck Tewksbury and Carl Noguiera along with updates on all the regional tournament action.
To celebrate our 4th pdf. issue I am continuing to offer a discounted re-subscription for any current subscriber who wants to take advantage of the discounted re- subscription cost of $14.00 for 4 pdf issues. (Normally $15.00 for new subscribers).
I'm also offering pdf Back Issues for $3.00 if complete or $2.00 if missing content that was re-published by MMP. (In that case an informational page was substituted for the missing content telling you what MMP publication it appeared in, we hope to see Out of the Bunker re-printed by MMP when they can, it is available in the aftermarket).
If you want all 39 Back Issues they are now $50.00.
If you want the Digital Works (a 4 issue RE-subscription plus all 39 Back Issues) it is now $60.00.
Thanks so much for your continued interest and support and look for #41 late in September 2015, your ASL Comrade, Vic.
---
For those unfamiliar with Dispatches, it is a 12 page Amateur ASL Newsletter that comes to the greater ASL Community twice a year, sometime in March and September courtesy of the New England ASL Community, including the Bunker Crew and our yasl Brothers in Southern New England. It typically contains 4 New Scenarios, Analysis of each one, a Main Article on any aspect of the game system, Tactical Tips, ASL News and Tournament Updates from our region.
I do accept PayPal payments, e-mail me at aslbunker@aol.com for details.
If sending a Check or Money order (in USA Funds only, drawn on a bank based here in the USA), Make your remittance out to Vic Provost and send to:

Vic Provost
Dispatches from the Bunker
P.O. Box 2024
Hinsdale MA 01235 USA
Any other questions just reply to my e-mail at:
aslbunker@aol.com
and I'll do my best to answer your query. Thanks your ASL Comrade, Vic Provost.
'SSR: All Occupants of the Bunker Location are considered Fanatic [A10.8]'