Dispatches from the Bunker #56 being transmitted from aslbunker@aol.com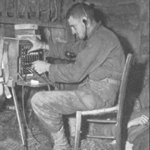 Hello to everyone in the ASL Community.
I am very pleased to announce that Dispatch #56 is being transmitted from my g-mail, e-mail. See the thread at Game Squad Forum in the ASL Emporium for ongoing monthly updates and Info. As usual the issue will be transmitted as a PDF file in batches depending on your last issue. This last issue will be mentioned in the subject of the e-mail. It has 4 new scenarios, another great article by Carl Nogueira plus the usual regional ASL and tourney coverage.
To celebrate this occasion I am running a sale for the newsletter, Please see details below.
Dispatches From the Bunker #56 Sale:
New Subscription - usually $20.00 but until the end of October it is $18.00 for a New subscription -
Re-subscription - usually $18.00 but until the end of October it is $16.00 for a re-subscription.
Back Issues - stays at $3.00 each or $2.00 if missing MMP Content (except the Issue #44 HASL which is $10.00) if purchased separately. All 55 back issues by themselves will be $60.00.
WORKs Orders - A subscription & All Back Issues is normally $75.00 for 4 issue subscription plus 55 back issues for 59 issues all together, 2 HASLs and well over 150 scenarios but it will be just $70.00 until the end of October.
If interested send your payments via PayPal to:
If you have any questions for subscription status, etc; e-mail me at: aslbunker@aol.com
I will be taking the rest of the evening off after transmitting the newsletter to everyone but will answer any question, process payments and send any missing issues out tomorrow morning.
Thanks for your interest and support, your ASL Comrade, Vic.
P.S. Take care, be safe and well and Roll Low!